Wood is a durable and sustainable choice for siding material. Trees grow slowly in the Scandinavian soil due to the cold climate, which produces solid trees with tight growth rings and a straight grain. This makes the wood stronger, lighter and more durable than others. Siparila Topcoat siding is made from the top of the tree where the quality of lumber is premium. When running a project there are many details which need attention. Here are few points which can increase the efficiency of the site.
Completely painted exterior siding
When choosing a surface treatment, it is good for the architect to consider the suitability of the surface treatment for industrial production. Completely painted exterior siding panel saves time and costs during the construction phase – the painting on site is left out and the building can be handed over more quickly.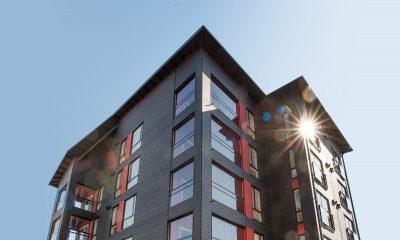 Uniform outlook for the building
Topcoat siding can hide the seams of the element structures with the outer covering creating a uniform outlook for the building. Pre-painted exterior cladding panels can be installed on a layer to layer as construction progresses. The optimization of the panel lengths and end-matching of the panel reduces the amount of waste material. The concealed cladding paneling enables a nail-less, natural and durable wood surface.
Challenges in fire-retardant tones
When applying fire-retardant film in translucent tones , the challenge is to make a durable, naturally treated wood a durable surface. In order to ensure sufficient thickness of the fire-retardant film, the panels required multiple application times of the paint. In the case of surface treatment, the industrial painting of boards is challenging because one surface always touches the conveyors.